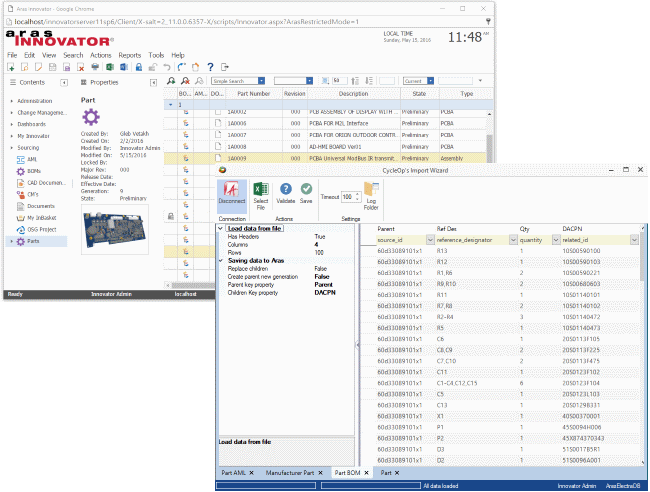 Import Wizard
---
CycleOp's Import Wizard is the most efficient way to load data and files to Aras.
If you wish to load legacy data from your old PDM/PLM system, or have a periodic BOM or part load – The Import Wizard is your tool.
No scripting, no messing with text files, and just simple UI.
A one-time license key is all that's needed to use this tool, and automate your loading processes with templates, built-in logic and many more built-in features.
Generic data loader
Load any data to Aras from Excel sheets – ItemTypes and Relationships and even files to Aras. Load multiple ItemTypes and relationships in a single import
Use Templates
Use pre-defined templates to reduce administration time, and automate the mapping of properties
Built-in Inteligence
The tool validates your data before loading, and will use configuration methodologies to make sure your data is 100% complete. Always.
Simple and Easy
No more complex AML and SQL queries. Use a single tool for adding and updating data, by using a simple interface which any user can operate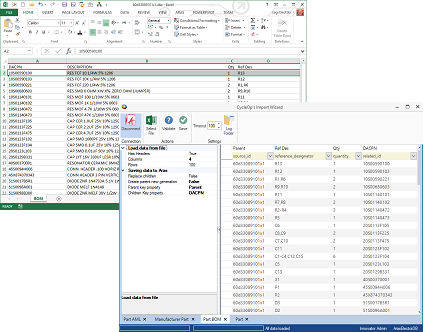 ---
Think simple
Load data straight from Excel sheets. No need for messy conversions to text files. No matter what version of Excel you use, and no matter how many sheets you want to load. The Import Wizard can handle all.
See the movie
---
Focus on your work, not your tools
No need to learn Aras's AML language, or how SQL queries are built. Import Wizard will do that for you. Simply select the Excel files containing your data, make sure the settings match your needs, map the necessary attributes and click "Import". Your data will be validated and loaded onto Aras with a click.
Get a trial license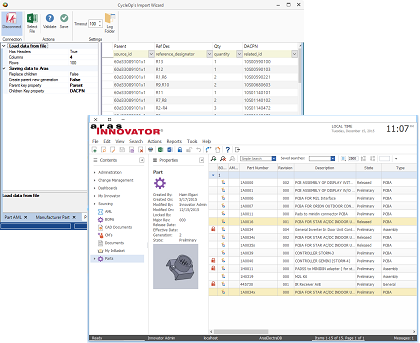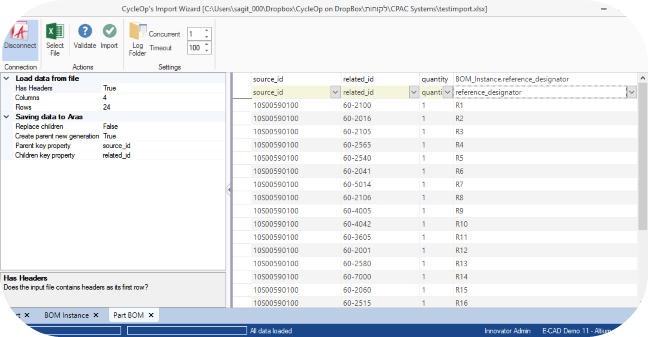 ---
We support all scenarios
The Import Wizard can handle anything you throw at it. It loads any ItemType, Relationship, Lists, Files and even relationships to relationships…Try us out. Look below.
I want a trial license!